Our daily rate for location shooting is $1250 per day and $625 per half-day with a half-day minimum.
Special pricing is available for multiple day shoots and assignments.
We also create special rates for our not-for-profit community agencies.
Call us to discuss your project and budget expectations.
Portrait sessions are usually done on location and are priced at $50 per person. Because of the setup time for portrait sessions, the minimum charge  for a portrait session is $250.
When working with a large firm shooting a series of executives, we allocate 15 minutes per portrait.
We have a lot of demand for our photos as large format prints and our shots hang in golf clubs, government offices, and restaurants.
Prints can be made at any size to accommodate your specific needs, and prices are shown below for several popular sizes and formats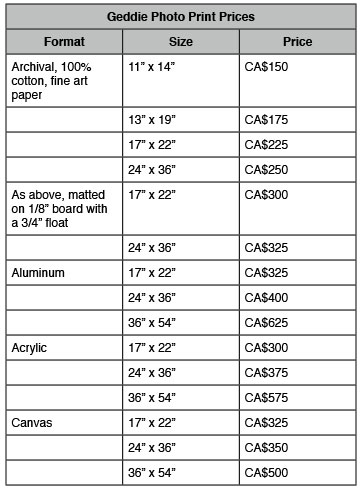 Aluminum and acrylic prints are usually mounted with stand-off bolts which can be various sizes and are quoted as extras.
Canvas and paper prints are ready to hang.
Hanging art on your walls is very personal, and we're prepared to work with you to deliver exactly what you visualize.